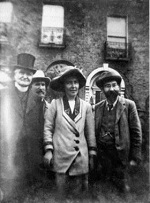 The 2019 Sheehy Skeffington School on Social Justice and Human Rights was held on Friday 10th of May 2019 at the Teacher's Club, Parnell Square, Dublin 1. This event, the final in the series, took the format of an evening session.
The 2019 theme was : Rediscovering Democracy and the Common Good: The Contribution of Human Rights.
The programme is available here.
Speaker biographies are available here.
The 2019 School
2019 marks the centenary of one of the final steps leading to an assertion of independence and the formation of the Irish state. In 1919 the first Dail met as the revolutionary period turned into a war of independence.
The 2019 Sheehy Skeffington School will focus on how the democratic model can best be reconfigured in a way that protects democracy itself and safeguards human rights and human dignity. This is an urgent task that we all need to take seriously in order to preserve participatory democracy and prevent the dismantling of the human rights structure built so carefully and with such difficulty over many years.