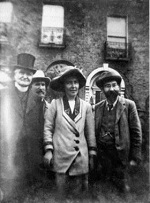 2016 is a special year for the Sheehy Skeffington School, with the centenary of the Proclamation and its guarantee of "religious and civil liberty, equal rights and equal opportunities to all its citizens". It also marks the centenary of the execution of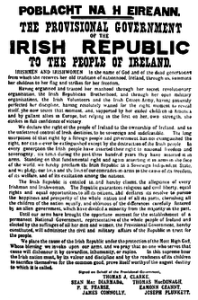 Frank Sheehy Skeffington, arguably the first of the revolutionaries to die.
The 2016 Sheehy Skeffington School will take place on Saturday April 16th in the Ireland Institute (Ionaid an Phiarsaigh), 27 Pearse Street, Dublin 2.
The provisional timetable is :
10:00 – 10:30
Registration
10:30-?
Opening of 2016 School
10:40-10:50
Chair – Carol Coulter

Chair, Morning Session

10:50-11:20
Colin Harvey : Human Rights in a New Republic
11:20-11:50
Damien Kilberd : Reviving Ireland – the Sheehy Skeffingtons and others 
11:50-12:00

break

12:00-12:20
Brenda Malone :

The bullet in the brick – an account of Francis Sheehy SKeffington's last days, 100 years ago

12:20-13:00
Panel discussion
13:00-14:00
Lunch
Chair, afternoon session tbc
14:00-14:45

Rights and obligations – constructs and activism. Aiden Lloyd (ESC Rights); Other inputs tbc

14:45-15:05
Pablo Lucente : title tbc
15:05-15:15
Kieran Allen :

launch of 1916, Ireland's Revolutionary Tradition

15:15-15:25
Donal O'Kelly :

performance tbc

Close of 2016 School